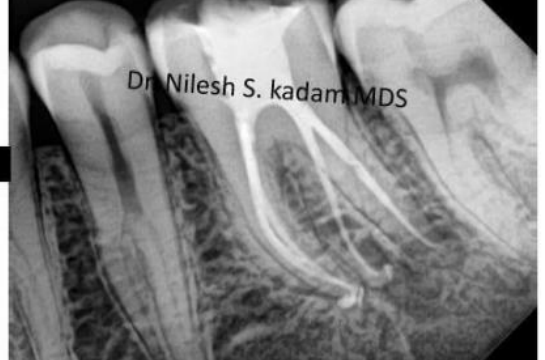 Dr. Nilesh S. Kadam MDS (Micro-Endodontist)
---
Introduction:
To achieve success in endodontics, a thorough knowledge of the dental anatomy and an understanding of the potential for variations from the norm are required.The mandibular first molar has two roots and three canals, but it can display several anatomical variations. OneOne of the several variations of mandibular molar includes an additional root either mesially or distally. If this root is placed distoligually it is called as radix entomolaris ( usually curved requiring special attention when root canal treatment is being considered.
Case discussion:
A 32-year-old male patient reported with pain in left mandibular first molar for last one week. Pain was continuous, dull, throbbing in nature. The pain was aggravated on exposure to cold and hot food items and upon mastication. His medical history was noncontributory.
Clinical examination of 36 revealed a deep carious lesion. Tooth was tender to both percussion and apical palpation. Thermal and electric pulp test were done on 36 which showed no response. Intraoral periapical radiographic examination of 36 revealed a radiolucency in close relation with the pulp chamber and presence of periapical radiolucency in the apical area of the distal root suggestive of periapical abscess. Additionally it also revealed the presence of an additional radiolucent outline of periodontal ligament space distally overlapping the distal root. This led to the probability of an additional or extra root distally. Based on the clinical and radiographic examination, a diagnosis of chronic irreversible pulpitis in 46 was made.
Informed consent from the patient was taken and the treatment plan was explained to him. Root canal treatment in 36 was initiated under the rubber dam isolation. Removal of caries, access cavity preparation was done using Endo access bur under microscope. Careful exploration of the pulp chamber using Endodontic explorer revealed four orifices i.e., two mesial and two distal, confirming the presence of an additional distal canal. Working length determination was done with the help of an apex locator. A smooth glidepath was prepared till no. 15 k filee T IOPA was taken to confirm the presence of extra distolingual root. All the canals of 36 were cleaned and shaped using X smart rotary device and rotary heat treated file (EdgeEndo system) till 25/0.06 size.. All the canals were irrigated using 5.25 % sodium hypochlorite and 17 percent EDTA solutions alternatively. After drying the canals the obturation was done using gutta-percha master cones, AH Plus sealer and warm vertical compaction technique. Then the temporary restoration was done and IOPA was taken in three angulations.
Conclusion:
Preoperative X ray in every case is mandatory to know properly the anatomy of the tooth. Diagnosis of the radix entomolaris in the initial phase of root canal therapy is crucial so as to avoid the future complications. Radix usually present with curvature of root in most of the cases so one has to be very careful during treatment to avoid procedural errors.
---
Dr. Nilesh S. Kadam MDS (Micro-Endodontist)